We have to admit, scuba diving was not high on our list of things to do in Colombia, but as we made our way to the Caribbean Coast, it became apparent that we just wouldn't be able to resist the appeal.
The small backpacker-friendly town of Taganga, located just 10 min outside of Santa Marta was teeming with dive shops offering budget friendly dive trips to Tayrona National Park. It took very little to convince us and a few days later, we joined Hernando and the awesome crew at Oceano Scuba for a day in the ocean!
We dove at two awesome sites around Isla Aguja and got a chance to enjoy our surface interval at a private cabana that offered incredible views of the Bahia Taganga.
Watch the highlights of our diving experience with Oceano Scuba in the video below!
DIVE SITES IN TAYRONA NATIONAL PARK
As it turned out, Tayrona National Park is a fantastic dive destination. There are 22 dive sites in the marine park, including coral reefs, sunken ships, caves, and a variety of marine ecosystems.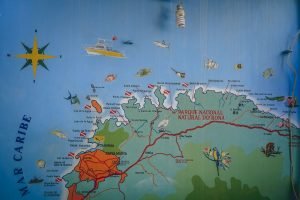 Map of dive sites in Tayrona National Park
Although the difficulty of the dive sites ranges from beginner to advanced, Tayrona has long been known to be a fantastic destination for those just starting their underwater adventures.
Beginner sites in Tayrona National Park are well protected from the trade winds and are generally calm and shallow, with an average depth of about 12 meters. While the more advanced sites tend to be deeper (18-40m) and have slightly stronger currents, making them perfect for drift diving.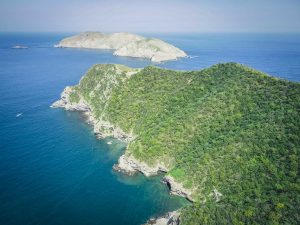 Nearly all dive sites in Tayrona National Park, are located within an hour boat ride from Taganga, so most 2-tank dive trips last for no more than 4-5 hours.
Oceano Scuba boat at Cabo de la Aguja
From what we've seen on our dive and from the tales we heard from others, marine life in Tayrona National Park is very dense and colorful. You won't be seeing too many large animals here, but there is an abundance of nice coral, sponges, anemones, as well lots of pufferfish, angelfish, lionfish, scorpion fish, moray eels, lobsters, octopuses, and much more! Supposedly, the number of fish species spotted in the coral reef around Tayrona National Park surpasses 150 varieties.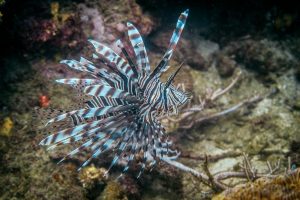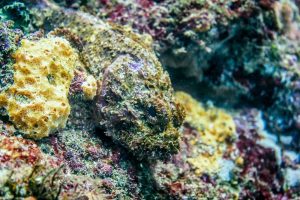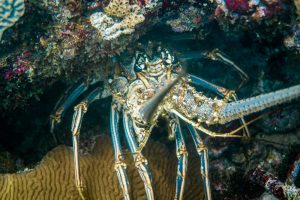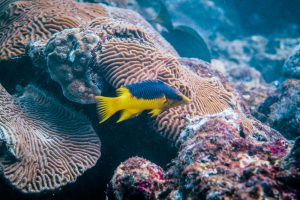 BEST TIME TO DIVE IN TAYRONA NATIONAL PARK
The climate in this part of Colombia is tropical with daytime temperatures ranging between 25-30°C. Despite the heat, the water temperature is surprisingly chilly, ranging between 21- 29 °C.
Visibility in Tayrona is best between the months of December and April and although the water temperature is at its lowest during these months, this definitely the best time to dive in Tayrona.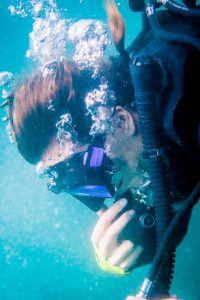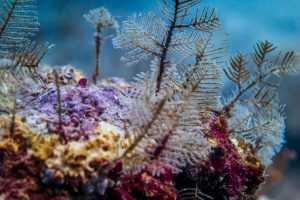 WHY DIVE WITH OCEANO SCUBA?
With over 30 years of experience diving in Tayrona National Park, Oceano Scuba is one of the oldest and most experienced dive shops in town. The crew is very professional, knowledgeable and uses top notch equipment, but for us what was more important was that they simply loved their jobs! They were friendly, helpful and just an awesome team to hang out with for the day!
Fun Dives with Oceano Scuba start at just 190,000 COP (equivalent to just $65) for a one day / two tank session and Open Water PADI Certification is just 800,000 (about $270)