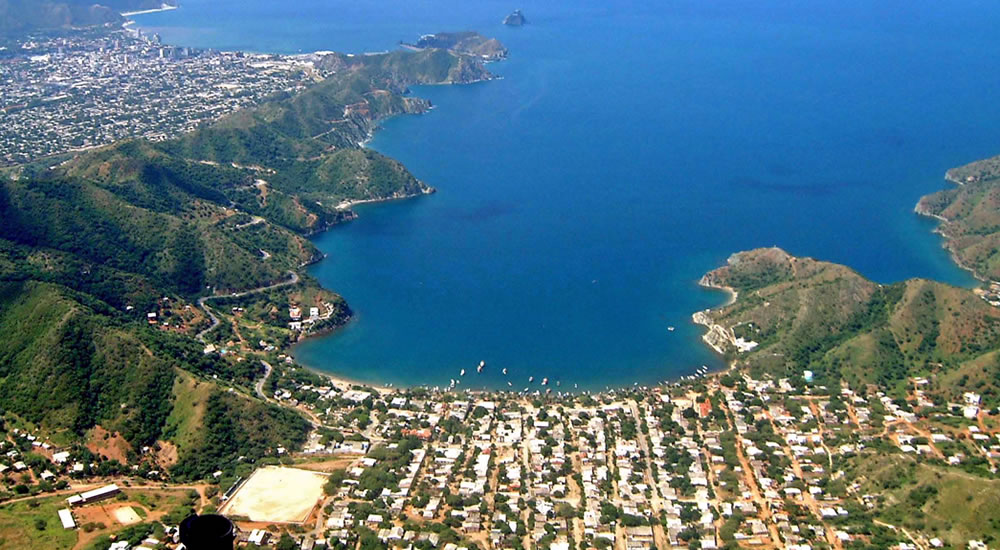 EXOTIC TAGANGA MAGICAL…, EXOTIC…, INCREDIBLE… !!!!!!!!
In its early days Taganga was a charming fishing village, then it was a destination for hippies, backpackers and hikers; to finally becoming what it is today. A Destination and refuge for artists, bohemians, intellectuals and wealthy nature lovers!!!!
Is located in front of the beautiful bay, which shares its name, surrounded by the mountain foothills of the majestic Sierra Nevada de Santa Marta National Park and limits to the north with the incredible Tayrona National Park.
Until recent years, getting to this town was a complete adventure, totally isolated and forgotten by politicians and leaders of nearby Santa Marta (oldest city in South America).  But it was worth it!!! Its paradisiacal beauty, the magic of the place, its location on the Colombian Caribbean, encouraged many people to make the effort, and gradually people from many nationalities, especially Europeans and nationals decided to try a little of this paradise. After  few years this village grew very quickly,  tourism became its first economic activity,  displacing fishing (tradition continued by some natives). Older residences and fishermen's houses were transformed into bars, restaurants, hostels and dive shops which also offer many kinds of services and accommodations.
Coexistence between people from different nationalities (German, Swiss, French, Spanish, Italian, etc.) and nationals contributed to enriching the bay and this area as one of the world's diving destinations. There are many dive sites for all levels of dives according to the level of training. Underwater life here is really dense, colorful and completely unique.
In addition, to close the story, Taganga is in a hurricane free area and does not suffer from any similar phenomena.
There are several options to stay in Taganga, for all budgets, interests and styles. You will find mainly three formats, Hotels, Hostels and apartment or room renting. Once you make plans to come, please ask for recommendations.
---
What to do:
Colombia is a beautiful country with many places to discover; oceans, snowy mountains, jungle, rivers, deserts, canyons. There are many wonderful places to go, many routes to travel either by bus, plane, bicycle, boat, bike or walking.
Taganga is a central point between diverse and marvelous tourist destinations.
Santa Marta
It is the oldest city in the country, founded in 1525. It is located north of the country only a 1 hour flight from Bogota.
It is a very quiet city with about 500,000 inhabitants and many historical attractions such as:
The oldest cathedral in South America built in 1766.
La Quinta de San Pedro Alejandrino, Beautiful estate with gardens where Simon Bolivar (liberator of America) died, now transformed into a museum.
The Gold Museum where lie artifacts of the Tayrona culture.
Sierra Nevada:
It is the highest coastal mountain range  in the world, 5,775 meters high. It is amazing how close to the ocean you can see snowy peaks. There are several tribes, cultures, many rivers and a very dense jungle.
Tayrona Park:
Tayrona National Park located between the sea and the Sierra Nevada de Santa Marta is located just 45 minutes from the city.
This nature reserve breathtakingly beautiful because of its diversity in fauna and flora, offers paradisiacal beaches and coral reefs : Bahía Concha, Cañaveral, Arrecifes, Cabo San Juan and Neguanje, among others.
Lost City
Archaeological city built by the Tayrona Indians between the thirteenth and fourteenth centuries, was discovered in 1975.
Walking tours lasting 4 to 5 days organized by professional guides allow you to discover this magical place of another era; surrounded by lush greenery and home to an amazing variety of animals. The area is still inhabited by the Kogi Indians (descendants of the Tayrona Indians).
Bahia Concha
Playa Cristal
Minca
Palomino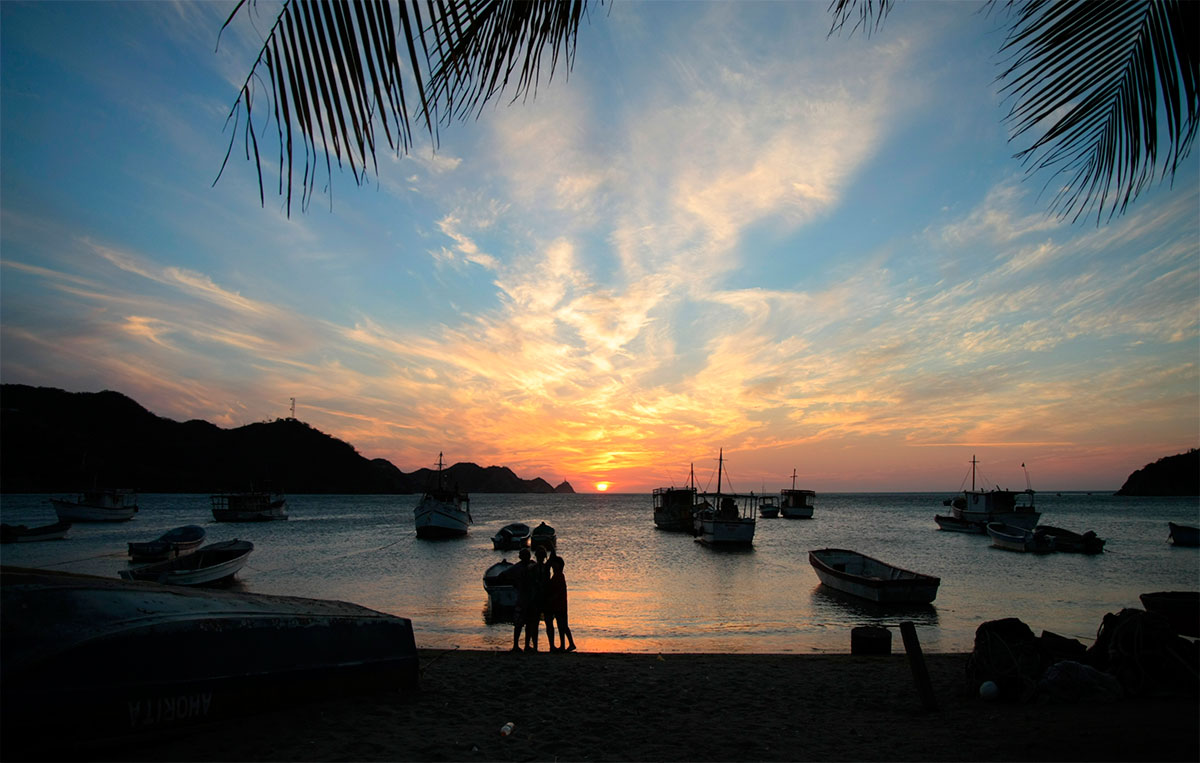 Taganga is located 10 minutes from Santa Marta.
Access to Taganga is possible by road from the center of the city of Santa Marta.
How to get to..
By bus from Cartagena or Barranquilla.
You can take a bus directly to Taganga.
Ask for Marsol buses.
http://www.transportesmarsol.net/wp/
You can also take a bus to Santa Marta then a taxi to Taganga.
Ask for Berlinas buses.
http://www.berlinasdelfonce.com/
By bus from Bogota or Medellin to Santa Marta.
http://www.expresobrasilia.com/
http://www.berlinasdelfonce.com/
By plane from Bogota, Medellin, Cali, and the rest of the country.
https://www.vivacolombia.co/co