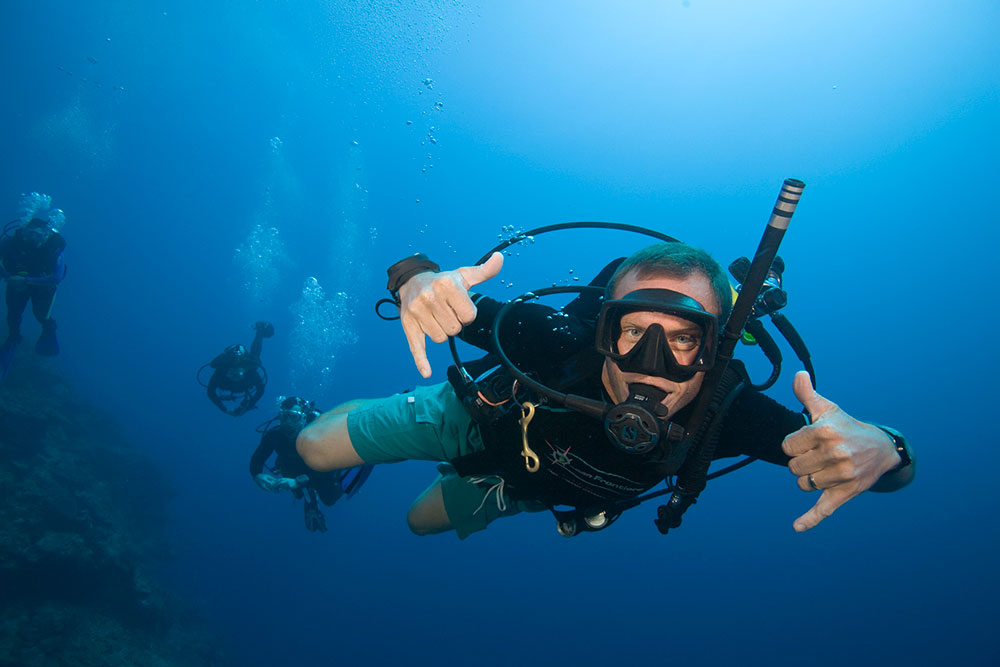 Oceano Scuba will take your dive adventure to the professional level of recreational scuba diving with the Divemaster course. Working closely with us, you will begin the journey, perfecting your skills and expanding your dive knowledge. This course develops your leadership qualities and qualifies you to teach a variety of courses, as well as to supervise and assist Instructors in other scuba programs. The PADI Divemaster is the prerequisite certification to PADI Assistant Instructor and PADI Open Water Scuba Instructor levels.
You will participate in our detailed internship where you will learn how a real scuba diving operation functions. On-site, you will have the chance to participate in servicing scuba equipment, understand how an air compressor works, fitting equipment, as well as learning about the wide range of scuba diving products available. With this new level of knowledge you will complete your course with a greater understanding of the industry, which will be extremely beneficial to any prospective employer looking to find a great Divemaster to join their team.
At Oceano Scuba dive center in Taganga we strive to train all our students to the best of their potential at every level. We believe that great instructors begin their journey as great Divemasters. The core of our training philosophy is getting you to find your own personal teaching style, combined with a thorough grounding of the professional expectations of an Oceano Scuba Dive Center professional, as well as a solid understanding of the diving industry. The development of your own unique pedagogical approach will make you stand out and be sought after as a dive professional anywhere in the world. New and experienced divers are always making the choices to expand and develop their diving experiences. As a Divemaster that journey may begin for you. Embrace your potential and fulfill the dream of becoming a dive professional.
Due to the nature of the Divemaster course our schedules are completely flexible, so your course begins when you decide to start. Please contact us for further details.